Posted by: Craig Woolheater on December 18th, 2005
Check out this cool comic book about Mothman. I just got my copy in the mail and enjoyed reading it. The artwork is really interesting. I give it two opposable thumbs up!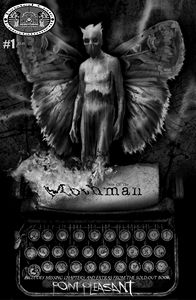 What happens when you put the creator, Chad Lambert, of the sold-out and first ever historically accurate comic book on the Mothman "Point Pleasant" and Ray Scott? You get a handful of tales about the Mothman from all perspectives, even the Mothman's. This book includes a missing chapter and some extras from the original book "Point Pleasant". With various great artists, and some kick-ass stories, this book is a must have for any fan of the Mothman or even those who don't know who the Mothman is.