Posted by: Craig Woolheater on January 22nd, 2008
Last week, I posted news of the Skunk Ape film, Stomp! Shout! Scream!, being screened at a film festival.
Today, I am posting a free PC game entitled In Search of the Skunk-Ape.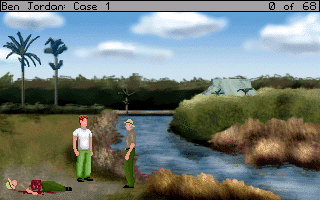 Ben's first case finds him in the Florida Everglades, looking for something known as "The Skunk-Ape" which is said to be a local variation on Bigfoot. The Skunk-Ape got its name because of its horrible smell, described as a mixture of moldy cheese, rotten eggs, and dung.

Several park rangers have been murdered, and so Ben is called in to investigate the possibility that the Skunk-Ape is involved. Help him survive long enough to solve his first case!

The Deluxe Edition features improved graphics, extended storyline, and full voice acting and lip-synch.Grundislav Games
The game can be downloaded from the Grundislav Games website.
Ben Jordan Case 1: In Search of the Skunk-Ape