Posted by: Craig Woolheater on September 1st, 2006
As we were talking about photo manipulation the other day here on Cryptomundo, sometimes photographs are manipulated to make them appear to show a cryptid.
Below is a photo of a megamouth shark that was manipulated to appear as if it was a plesiosaur. No known source, but it was featured on several cryptozoology websites several years ago.
On the left is the original photo of a megamouth shark carcass, and on the right is the manipulated photo of a "plesiosaur."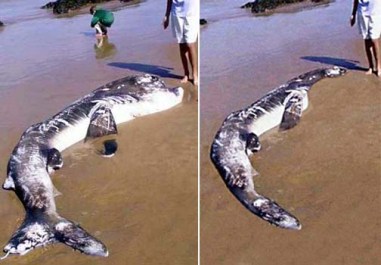 Click image for full-size version