Posted by: Craig Woolheater on October 2nd, 2012
Update: The event has been canceled due to not meeting the minimum number of riders for the bus line.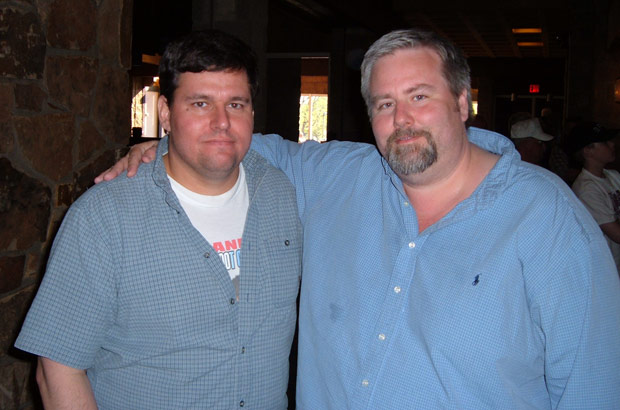 Marc DeWerth and Craig Woolheater at the 2005 Ohio Bigfoot Conference
Photo Credit: Blake Mathys
Bus trip to Bigfoot hot spot is offered
The parks and recreation departments of Aurora and Streetsboro have teamed up with veteran Ohio Bigfoot investigator Marc DeWerth, who will lead the Bigfoot bus trip to one of Ohio's best and least known Bigfoot hot spots near Warsaw in Coshocton County.
The bus trip is scheduled for Oct. 6. The bus will arrive at 8:45 a.m. at Streetsboro City Hall and will depart at 9 a.m. It will return at 7 p.m. The trip is intended for people age 18 and over.
The tour will feature some short hikes, historical information on location and maybe even a few surprise guests. Participants should take a packed lunch.
Registration will be accepted at the Streetsboro Parks & Recreation Department while openings remain. Seating is limited. Cost is $45.