Posted by: Craig Woolheater on October 28th, 2006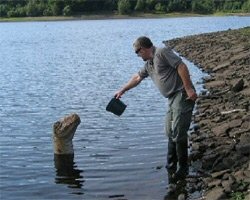 David Wilson feeds Oggie, Ogden Water's own monster so that it won't attack the public on Hallowe'en
Now be a good Oggie…
By Cathy Neligan
Halifax Courier
SOMETHING monstrous is lurking in the deeps at a Halifax beauty spot – and getting ready to surface.
Ogden Water's own version of the Loch Ness monster will be part of the spooky goings on next week in the annual Hallowe'en lantern procession.
Dave Wilson, estate manager at the Halifax beauty spot, said preparations were well under way. "We managed to get hold of the head and it looked great, but we thought it would look really good with a proper body."
Volunteers have been working hard on the fibreglass and chicken-wire body, which now measures 14ft, to get it ready for the event on October 31 from 7pm.
As well as the monster there will be Woodland Wizards and spooky goings-on in the woods.
Up to 2,000 people have attended the event in the past.
Admission is 50p per person. No unaccompanied children and no dogs.