Posted by: Craig Woolheater on December 25th, 2005
More on the Malaysian Bigfoot situation.
Sightings of hairy creatures said to be about three metres tall have trickled in over the years, especially from along the forest spine connecting Endau Rompin, Kota Tinggi and Tanjung Piai.
Villagers claimed they were usually seen during the monsoon and fruiting seasons, sometimes raiding orchards but not harming anyone.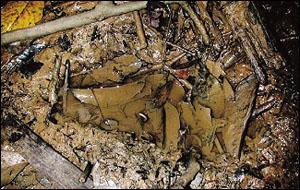 EVIDENCE: A footprint reportedly left by 'Bigfoot' at a swamp in Kampung Mawai near Kota Tinggi recently.
…sightings of the creatures were reported in Tanjung Piai last year and at Kahang, near Kluang, about five months ago, with similar footprints found at all three sites.
In 1995 a massive search was organised by the authorities of the dense jungle at Tanjung Piai following reports by villagers of a sighting there, but they found nothing.
In 2001, at the 40,197ha Endau-Rompin National Park, several Forestry Department officials, Rela members and campers reported seeing the creature.