Posted by: Craig Woolheater on January 26th, 2007
Well, it looks like the missing Bigfoot Statue has been found. Looks like they didn't even need to call out Rick Noll, Bigfoot Hunter.
For the details regarding the theft of the statue, see Bigfoot Missing In Washington State here on Cryptomundo.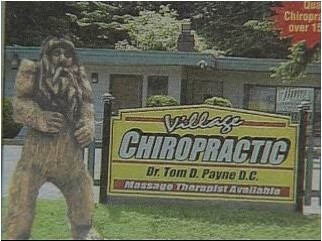 Stolen statue found, minus the big feet
STEVE MAYNARD; The News Tribune
Published: January 26th, 2007 01:00 AM
Bigfoot has been found.

Following an anonymous call about a sighting, Federal Way police discovered the 400-pound chain-saw carving Wednesday under a pile of debris in a backyard – about a block from where it was stolen.

The statue's 16-inch-long big feet were sawed off at the ankles, nearly 9 inches thick.

"I'm glad we got him before they cut him anymore," Tom Payne, a chiropractor who reported it stolen Monday, said Thursday. "We're relieved to have him back at the office."

Two males, one a minor, confessed to stealing the 8-foot-tall carving but wouldn't say why, said Federal Way police spokeswoman Stacy Flores. They each could be charged with second-degree theft, she said.

The carving of the fabled Northwest beast was again outside Payne's office Thursday in the 1400 block of Southwest Dash Point Road, where's it had been for 51/2 years.

The thieves cut off the bottom 18 inches. Payne thinks they wanted to chop up the whole statue after the theft received widespread media attention.

With its size and red-reflector eyes, the fir carving helped people find the secluded driveway to Payne's office.

Bigfoot was the latest in a string of Federal Way icons to go missing. A historic bell was found and the head from Federal Way High's stuffed bald eagle mascot was returned and repaired.

Payne's next concern is to repair the statue he calls Sasquatch Sam.

"I'm sure I can find a chain-saw sculptor that might feel up to the task," he said. "It was a landmark."Steve Maynard