Posted by: Craig Woolheater on January 23rd, 2007
Stolen Bigfoot leaves only tire tracks
BRENT CHAMPACO; The News Tribune, Tacoma, WA
Published: January 23rd, 2007 01:00 AM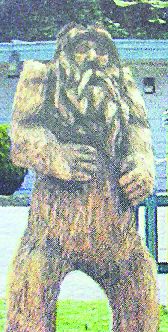 COURTESY OF VILLAGE CHIROPRACTIC
Tim Payne discovered Monday morning that his Bigfoot statue had vanished from his office in Federal Way.
Bigfoot has gone missing in Federal Way, leaving no massive footprints in sight.
It isn't a hoax. An 8-foot-tall, wooden carving of the fabled Northwest beast was reported stolen Monday from a chiropractic office on Southwest Dash Point Road.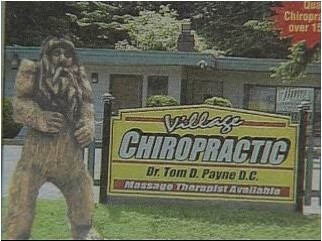 Tim Payne, who's had a practice in Federal Way for two decades, propped up the statue near his business' secluded driveway more than five years ago. His family says he is fascinated with the lore of Bigfoot, which is why he chose the creature instead of a wooden bear or gorilla.
Although intimidating, Bigfoot welcomed guests and served as a landmark for lost passers-by. Payne said he paid $1,400 to the friend of one of his patients to carve it.
Payne couldn't believe his eyes when he pulled into work Monday morning. Someone had apparently stolen the statue along with the chain that secured it to the fence. All he found were tire marks leaving the scene.
"Oh my goodness," he remembers saying. "Someone finally got him."
The news shocked Chantel Wilson, one of Payne's two daughters and massage therapists at the family-run office. She said the beast was part of the family, no matter how much hairier it is than the rest of them.
Wilson's three children often climbed the statue. Around town, people would describe how they couldn't help but look at it.
"We would say, 'If you see the Sasquatch, our office is the next right,'" she said.
Even authorities sometimes use Bigfoot as a landmark when trying to track down stranded drivers or others in the neighborhood, said Federal Way Police spokeswoman Stacy Flores. Her department took a report on the missing creature about 9:30 a.m. Monday.
Payne said he hopes whoever took the statue has no choice but to return it.
"He's one of a kind," he said. "We want to make it so hard for them they can't put it up in their yard."
Brent Champaco: 253-597-8653
brent.champaco@thenewstribune.com
Sounds like a job for Rick Noll, Bigfoot Hunter.