Posted by: Craig Woolheater on January 21st, 2006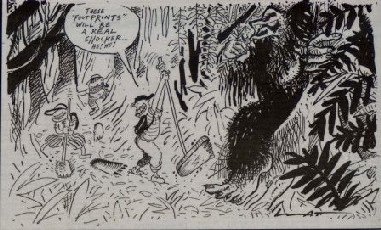 Art by LAT, New Straits Times Tuesday, December 27, 2005
In an article entitled Johor Tourism in Malaysia waits for windfall from international interest in 'bigfoot', the BFRO is quoted as offering the following advice to the Johor National Parks Corporation (JNPC):
"Even a fairy large expedition, if held over a short duration, is not likely to succeed, " said Bigfoot Field Research Organization from the US, which has instead urged authorities to respond quicker to new sightings by jungle inhabitants, Orang Asli. (spelling corrected by yours truly)

For a group that is doing just that, holding 4 day, 3 night expeditions for paying customers, the BFRO (Matt Moneymaker) seems to be contradicting their (his) statement to the JNPC. Of course, on the BFRO website, they do offer this advice for the Malaysians.