Posted by: Craig Woolheater on August 29th, 2006
The case of the Lake Van Monster is an interesting one indeed.
The first reported sightings of a monster in Lake Van in Easter Turkey did not occur until 1995.
In 1997, a university teaching assistant shot video of what has become known as the Lake Van Monster.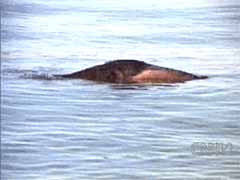 Above is a still from the video shot by 26 year old Unal Kozak.
CNN covered the story back in 1997. The CNN website has links to the video of the "creature" in the water.
Word today from Zaman Online out of Istanbul is that a crew from Japanese magazine Shosetsu Tendai by Kodansha is at Lake Van documenting the legend of the Lake Van Monster, talking to eyewitnesses.
I wonder if anything new will come of this? Any new eyewitnesses? Any new photos or videos?