Posted by: John Kirk on February 26th, 2013
I support Bill Munns in his belief that the creature in the supposed Matilda footage looks remarkably like Chewbacca the Wookie. The resemblance is uncanny. I have had trouble since day one with this footage as the fur on the sleeping object in the footage looks unnatural. In fact, to me, this looks like those carpets from the 1970′s. You know what I am talking about.
The reports of alleged Wookie type sasquatches are few and far between. They do exist, but they are in a distinct minority. I have always taken that the witness described them as wookie-like because they were hair covered like Chewie was.
The nose in this footage is like that of a canid or felid. It is not human, pongid or otherwise. I have never heard any witness describe a sasquatch nose as being like the one in the series of photos above. It is completely out of sync with eyewitness reports.
In addition to the other bizarre features of this supposed sasquatch, where are the classic sasquatch anatomical features so widely reported such the sloping forehead, conical cranium and absence of a neck as described in a preponderance of sightings? This creature is entirely different. In my opinion it is not a sasquatch and does bear a remarkable resemblance to Chewbacca or some other fantasy film creature. It does not look like at all like a sasquatch.
If, in fact, this is the footage that is supposed to lend credence to the recent DNA study in Texas, then I would have to say that is a failure in proving any support for the DNA quest.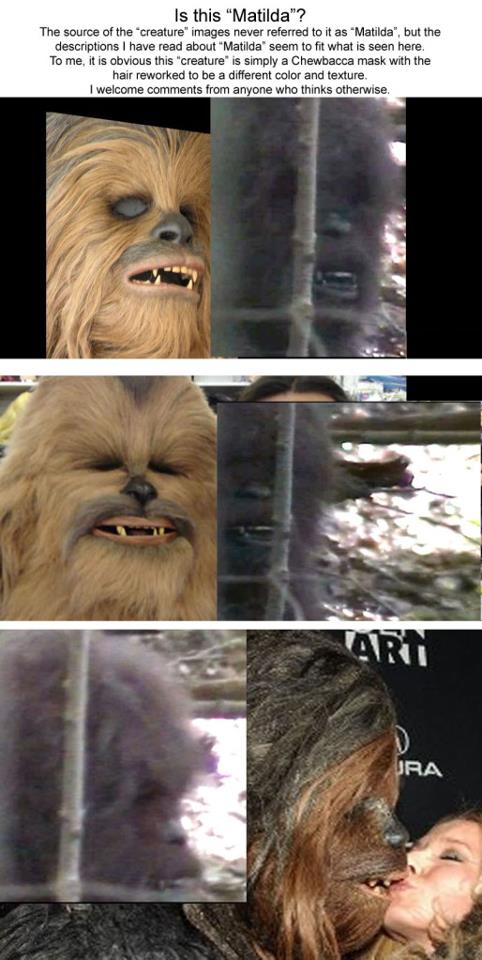 The source the "creature" images never referred to it as "Matilda", but the descriptions I have read about "Matilda" seem to fit what is seen here. To me, it is obvious tihs "creature" is simply a Chewbacca mask with the hair reworked to be a different color and texture. I welcome comments from anyone who thinks otherwise.

With this posting, I cordially suggest the following:

1. If anyone wishes to publicly acknowledge that this is their footage, I invite them to do so, and if they are correct, I'll acknowledge it to be true.

2. If anyone feels the video frames show a real creature and not a Chewbacca mask, I welcome their analysis of why we should consider that to be so.

3. If anyone has seen the "Matilda" footage, I invite you to let us know if this is or is not the footage you call "Matilda", because maybe what I'm looking at isn't her, and I welcome being corrected if that is so.

4. If my display of this chart causes anyone to feel that they should file some type of civil action against me, please have your lawyer contact me at wmunns@gte.net so we can set an appointment for my receiving the service of papers, and we can discuss the matter on the public record, in a court.

For the record, I will confidently and clearly offer an appraisal of evidence as being something real, if I truly find the evidence leads to that conclusion, and my appraisal of the PGF as being real supports that position. But as much as we must support what we find to be real or valid, we must also reject or discount what we find to be false or fake. Our obligation is to find the truth, and I think it's time we all knew the truth about this "Matilda" thing. I finally decided it's time I did my share to get the truth out.

So hopefully, someone who has seen the "Matilda" footage will tell us the truth. Is this her (pictured below), and is she real?Bill Munns