Posted by: Craig Woolheater on December 22nd, 2005
457 fossilized human footprints were found in western NSW, Australia. The prints are 23,000 years old, the oldest fossilized footprints ever found in Australia.
Could they have been left by a Yowie?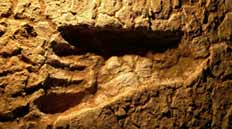 The 457 footprints, ranging from toddler-sized to a size 12 "bigfoot" print, were uncovered by earth scientists in a clay pan underneath sand dunes.