Posted by: Craig Woolheater on November 9th, 2012
Season 3 of Finding Bigfoot premieres Sunday night at 9PM E/P with a special episode, Meet the Squatchers:
Go behind the scenes with the Finding Bigfoot Team. For the first time ever, Matt, Cliff, Bobo, and Ranae reveal untold stories of their quest. Meet guests; see unaired footage; and learn what's next for the team, including startling new evidence.
Then at 10PM E/P, Ripped from the Headlines:
The team travels to Idaho to investigate video evidence that has recently garnered national media attention. Trying a new, innovative baiting technique, Bobo devises an unusual plan that just might prove this mystery to be true.
Based on the episode description, I imagine that they will be investigating this video: Idaho Bigfoot Video
Starting at 9AM E/P on Sunday morning, there is a marathon of previous episodes all day leading into the premiere The two new episodes also repeat directly after their first showing.
A large shady creature which appears to be a Bigfoot is spotted walking through the trees across a canyon. Before we began filming the figure could be seen walking through the clearing of snow just to the left of the trees.Published on Mar 13, 2012 by Lukeking327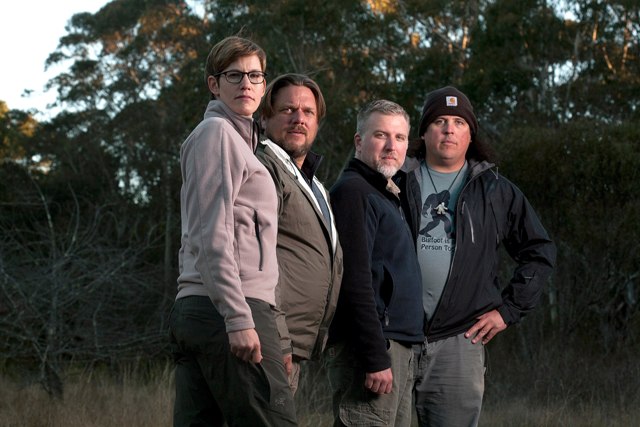 Great news for Sasquatch enthusiasts everywhere! Early this afternoon, Animal Planet announced a whopping TWENTY new episodes of its hit series Finding Bigfoot set to premiere Sunday, November 11th at 10PM E/P.

One big change of pace this go around is that for the first time, the team expand their search in North America and beyond to investigate the sasquatch phenomenon known as "yowies" in Australia and the "orang-pendek" of Indonesia.

In addition to their global jaunts, the team members will participate in a special "pre-show" special airing Sunday, November 11th at 9PM E/P before the premiere episode. Moderated by Animal Planet executive producer Keith Hoffman (you may recognize Keith from his Hillbilly Handfishin' adventures). The special brings the team together in an informal setting to discuss the investigations in greater detail and to provide insights and tips not shared in the show.

Which location are you most excited for? What sorts of questions would you love to see the team answer? Sound off in the comments!Grace Suriel