Posted by: Craig Woolheater on January 24th, 2007
On Monday, LiveScience published their Top 10 List of Unexplained Phenomena.
Bigfoot made the list at #2.
Bigfoot #2

For decades, large, hairy, manlike beasts called Bigfoot have occasionally been reported by eyewitnesses across America. Despite the thousands of Bigfoot that must exist for a breeding population, not a single body has been found. Not one has been killed by a hunter, struck dead by a speeding car, or even died of natural causes. In the absence of hard evidence like teeth or bones, support comes down to eyewitness sightings and ambiguous photos and films. Since it is logically impossible to prove a universal negative, science will never be able to prove that creatures like Bigfoot and the Loch Ness monster do not exist, and it is possible that these mysterious beasts lurk far from prying eyes.LiveScience
And what photo was used for the article? Why that photo of the Bigfoot charging Tom Biscardi's old buddy, Ivan Marx.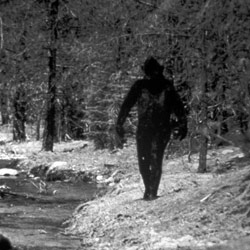 Photo Credit: (AP Photo/File)