Posted by: Craig Woolheater on January 28th, 2006
After the San Antonio Express-News published a story about our group's Bigfoot research here in the Lone Star state, apparently the editorial cartoonist decided to start a running series this week with Bigfoot being featured in his daily cartoon.
Leo Garza's 'Nacho Guarache' started years ago as a 'Doonesbury'-like cartoon called 'Needles.' From the first depictions of the character, Nacho has embodied the humble everyman, serving as a foil for the events of the day. Even his name reflects his lowly origins. He was named 'Nacho' after a favorite elderly relative of Garza's and 'Guarache' because Garza thought it would be fun to hear people struggle to pronounce the word.
Here is the cartoon for Saturday, January 28, 2006. Click on the image below to see the entire cartoon.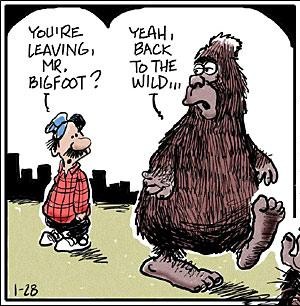 Go here for the previous cartoon in the series.
Toon in for future adventures of Nacho Guarache and Bigfoot here on Cryptomundo.