Posted by: Craig Woolheater on September 14th, 2013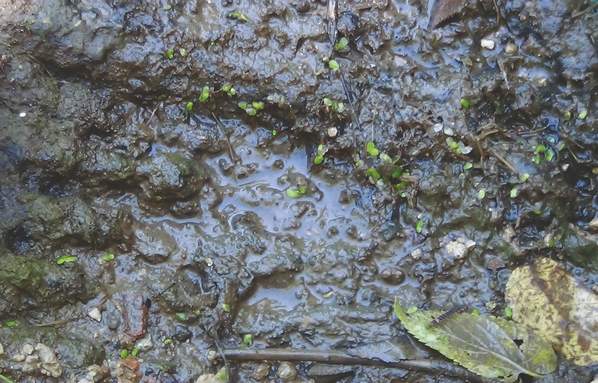 WORLD-HERALD NEWS SERVICE
"There were no deer prints. It's not a deer. I guarantee it," Richard Rohrberg said of this print he spotted in the Loess Hills.
Bluffs hunter says he believes print he spotted in Iowa's Loess Hills belongs to Bigfoot
Richard Rohrberg didn't think he would find signs of Bigfoot while deer hunting in rural Harrison County on his mother's birthday.
The 65-year-old Council Bluffs man – who has hunted the backwoods of southwest Iowa for 50 years – says he spotted what he believes is the creature's footprint Sept. 2 in the Loess Hills near Magnolia. An expert on Bigfoot sightings, however, believes the print is a collection of deer tracks.
Rohrberg said deer don't visit the grassy creek where he spotted the footprint because it's too deep and narrow. The print didn't match anything the veteran hunter had ever seen in the Loess Hills.
"There were no deer prints," Rohrberg said. "It's not a deer. I guarantee it."
But Jeff Meldrum, an anthropology and anatomy professor at Idaho State University who has studied Bigfoot for 15 years, said the Great Plains area isn't a suitable habitat for a large primate. Most Bigfoot sightings have been west of the Rocky Mountains.
The ambiguity and size of the single footprint would rule out any possibility of it belonging to Bigfoot, Meldrum added. Overlapping deer tracks with cloven hooves would most likely explain the "toe-like" appendages.
"It has nothing to do with Bigfoot whatsoever," Meldrum said. "You would only accept the oddness if it was repeated in multiple tracks."
This sighting from July was only 75 miles away: Teen's Hairy Run-in with 7-footer Probed as Bigfoot Encounter