Posted by: Craig Woolheater on February 28th, 2013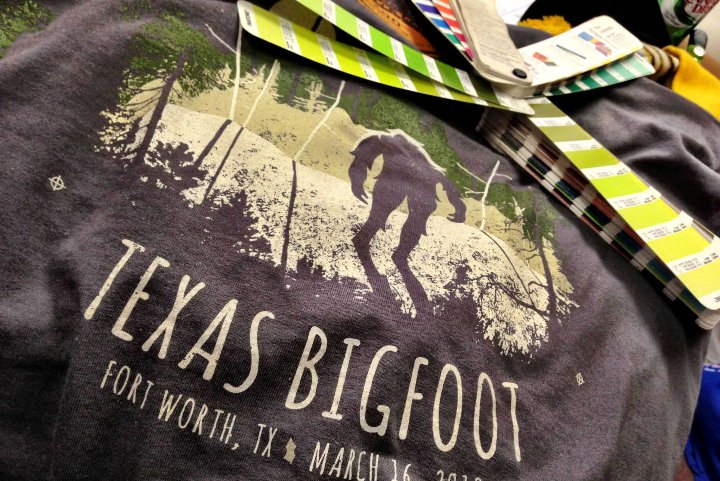 Press-checking the 2013 Texas Bigfoot conference t-shirt. Get yours at the conference on March 16th!
Craig Woolheater has posted about the upcoming Texas Bigfoot Conference. Cryptomundo fans can meet Craig in person at the conference, along with the speakers and others from around the country. Don't miss this great learning and networking opportunity!
The TBRC is hosting a Friday Night Social before the conference! You get to hang out with Dr. Jeff Meldrum, Bill Munns, Kathy Strain, Josh Gates, Lyle Blackburn and all the super cool TBRC members!!! How cool would it be for YOU to buy JOSH GATES a beer?? Tickets are very limited…and check out the awesome menu!
The Friday Night Social will include a fabulous meal including butler passed hors d'oeuvres (including Spicy Eggplant & Mozzarella Brushetta, Spinach & Chicken Spanakopita in Phyllo, Coconut Shrimp Tempura, and Mini Beef Wellington with Perigourdine Sauce), a Smoked BBQ Beef Brisket Carving Station and sides (including caramelized onions, vegetables, assorted rolls), a Gourmet Whipped Potato Bar, and a Chef's Selection of Miniature Desserts, Cakes, and Pies. A cash bar will offer a wide variety of imported and domestic beers, wine, and soft drinks.
Tickets are only $50 and admission is limited. Tickets are available here.
The Texas Bigfoot host hotel is the Sheraton Fort Worth Hotel and Spa, just two short blocks away from the Convention Center. Conference attendees will enjoy a discounted room rate of $119/night when booking though this website.