Posted by: Karl Shuker on May 23rd, 2013
With almost 900,000 hits since I uploaded it on 12 June 2012, by far the most popular of all of my 300+ ShukerNature posts is my exposure of three online black lion photographs as computer-modified fakes (click
here
). In that same post, I also included some information concerning various alleged sightings in the wild of genuine black lions, plus a very interesting lion cub called Ranger, born at Glasgow (formerly Calderpark) Zoo in Scotland during 1975.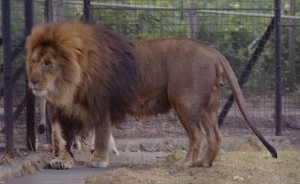 "What made Ranger so interesting is that he possessed a black chest and a large patch of black pigment on one leg, possibly the result of a rare pigmentation phenomenon known as mozaicism. I learnt from the zoo's then director, the late Richard O'Grady, that in an attempt to create an entirely black lion, Ranger was mated with his mother, Kara, on several occasions when he reached adulthood, and also with other lionesses, but no offspring ever resulted. Consequently, it was suspected that Ranger was sterile, though he was in excellent overall health and lived to the ripe old age of 22. Until very recently, the only photograph of Ranger that I'd seen was a b/w image of him as a small cub, but just over a month ago I was contacted by Peter Adamson from St Andrews, Scotland,, who showed me a hitherto-unpublicised colour photo that he'd snapped of Ranger as an adult, which revealed some fascinating additional details concerning his unique colouration."
Further information can be found
here
on my ShukerNature blog.